Google Drive is one of the most popular cloud file storage service developed by Google. By creating a share link, you can share the files that you store on Google Drive easily. But how to get a direct/native link for Google Drive files? How to get a permanent link for Google Drive files?
What's the use of native/direct link? Native link is very useful while you want to provide a download link for cloud-hosted files. And for a webmaster, it's very important to have a direct file link for downloadable items because users don't need to leave a website to download a file.
Like most other file-sharing services, Google Drive doesn't provide native links for the files you store. But it's very easy to get them by doing simple tricks. Let's start the task!
Get Native/Permanent Link for Google Drive Files
You can get Google Drive native or permanent link easily by following the two simple steps:
Step 1. Copy Google Drive File Shareable Link
Open Google Drive folder containing the file you want to share and then select the file. A link icon will appear after selecting the file. Now click on the link icon as seen below.
The file shareable link for the file will be copied if you click on the link icon. If you have the shareable link, go to Step 2. If not, you have to get it another way!
There is another way to get the shareable link! Just select the file and right-click the mouse on the file. Then click on the "Get shareable link" as seen below from the menu options.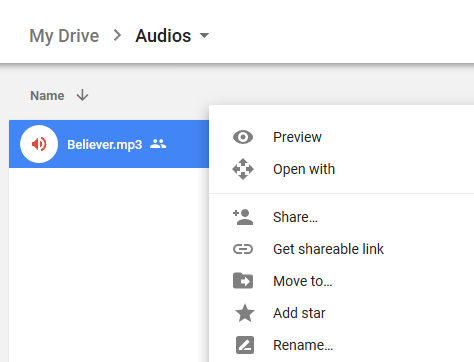 File shareable link will be copied if you click on the "Get shareable link" option. Now paste the shareable link in a notepad or browser to modify and make it a native link!
Step 2. Modify Google Drive Shareable Link
The Google Drive shareable link you just copied looks like this in the text format:
https://drive.google.com/open?id=1qbLiO_ZFmuQUPSj8Sj1URjGgnzyzsb57
You have to modify this link, just replace open? with uc?export=download& to get a direct or native link. After this modification, the link should look like this:
https://drive.google.com/uc?export=download&id=1qbLiO_ZFmuQUPSj8Sj1URjGgnzyzsb57
That's the direct/native link for the Google Drive file and it's a permanent link!
So you can use the link as a direct download link for the file! The direct/permanent link will skip the Google Drive web viewer. You can test the link we shared in the process.
IMPORTANT: Google Drive doesn't provide native or permanent link for large files. It's not possible for files larger than 100 MB in size. You can use OneDrive to get direct links for big files.
To download large files from Google Drive, you must go to the web viewer for the shared file. Then you have to click on "Download anyway" to download the file. That's the only way!
That's for today! Have a different solution or want to say something about getting native links for Google Drive files? Please let us know in the comments section!